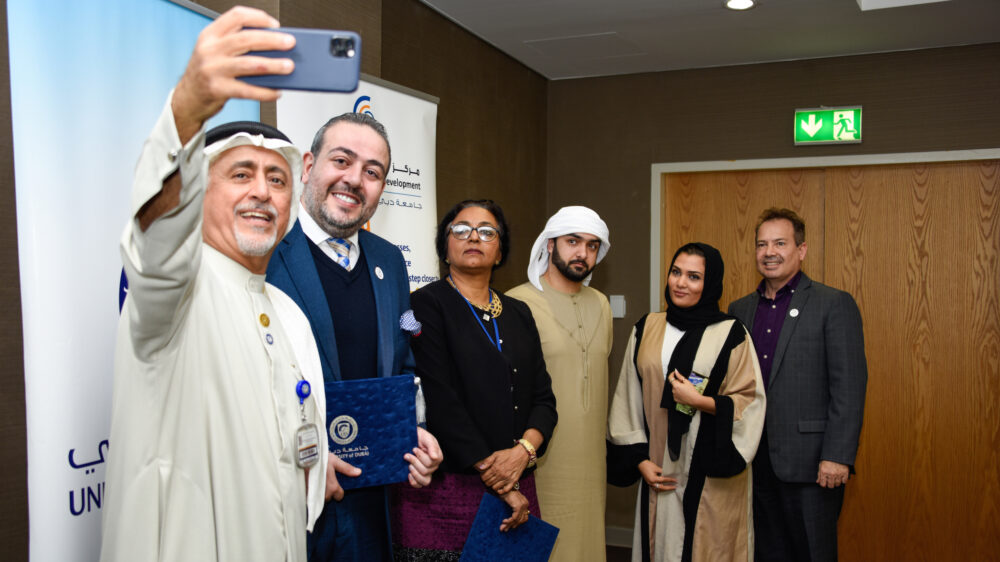 Manchester Academy and University of Dubai Launched the Professional Diploma in Cyber Security
The Manchester Innovation and Technology Academy in cooperation and partnership with the University of Dubai (UD), launched the Professional Diploma in Cyber Security, which is the first of its kind in the Middle East. The diploma has witnessed a great turnout and presence from the government and private sectors in the UAE and the Gulf countries.
Many experts, academic specialists and professionals from the most prestigious British universities are supervising the development of the courses and material for the new diploma, such as Manchester Metropolitan University, University of Warwick, University of Salford, University of Sheffield and University of Bradford.
Experts and lecturers have developed an advanced platform to teach this diploma, which will be taught in the English language over a period of eight months. The diploma is going to include online lectures with practical application, self-study, virtual tests, homework in addition to one-to-one online meetings between students and lecturers. Courses will include introduction to piracy, protection of electronic identity, data mining and electronic security, mass publishing or what is known as spam, electronic terrorism, digital forensic analyzes, and finally the Graduation Project.
The importance of this diploma lies in its ability to introduce people from various backgrounds to the cyber world with its challenges and dangers, and equip them with necessary tools and techniques to face them whether on the personal or corporate levels.
UD President Dr. Eesa Bastaki highlighted the importance of the topics that the diploma focuses on and their role in maintaining data security and protection from piracy and cyber crimes. The courses are professionally designed to contribute to protecting networks and programs from digital attacks, which usually aim to access or change sensitive/ private information or destroy them, extort money from users, or interfere in business operations.
He pointed out that the cyber crimes that are carried out through computers and the Internet are utilizing high technologies with the aim of piracy or fraud and causing physical and mental damage to individuals, institutions and various entities by accessing their personal, private and confidential information. "Hence the importance of this diploma lies in its ability to shed light on ways to protect individuals, in specific, and society in general," he said.
In this context, Dr. Wissam Astatiyeh, Executive Director of the Academy – Dubai Branch, said that experts believe that the specialty of cybersecurity will grow by 32% between 2018 and 2028, and at the beginning of 2018 there were more than half a million vacancies in this field. He added that experts also expect an increase in the rate of cybercrime and data breach by more than 27.9%, which is higher than the rate achieved in 2017, which amounted to 27.7%. Hence, it has become necessary for companies to employ experts in the field of information and cyber security with the continuation of cyber attacks and the increase in the number of hackers.
"Therefore, we designed this professional diploma to prepare and develop Arab cadres from the private and public sectors in order to thwart all attacks and attempts by computer hackers to penetrate systems and data networks," he said.